We're looking for a few good ears
World War II turned the ordinary men and women who took part in it into great storytellers, and gave them great stories to tell, while at the same time causing many of them to keep those stories to themselves or share them only with other veterans -- those who had walked a mile in their shoes -- at reunions or in the VFW Hall.
These are their stories, as told to Aaron Elson, who went to a reunion of his father's unit hoping to find veterans who remembered his dad, and went back two years later with a tape recorder. Since that first reunion in 1987, he has recorded more than 600 hours of interviews with veterans of World War II.
Some of those interviews are now available in a unique series of audiobooks. These include "The Tanker Tapes" and "Once Upon a Tank in the Battle of the Bulge," both excerpted from interviews with veterans of the 712th Tank Battalion; "The D-Day Tapes," a series of interviews with veterans of June 6, 1944; "For You the War Is Over," interviews with former prisoners of war; "The Kassel Cassettes" about a spectacular aerial battle; and "A Bundle of History," a collection of four unconnected yet equally powerful interviews.

Listen to audio clips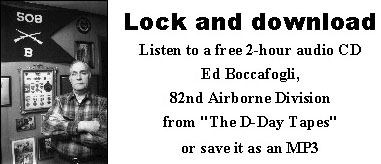 For more information about World War II Oral History audiobooks, please visit audiomurphy.com, home of the best war stories aloud on the Internet or Tankbooks.com