---
---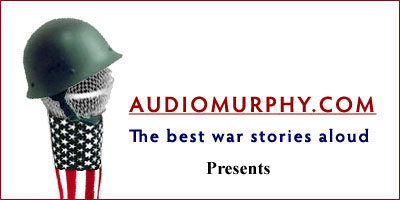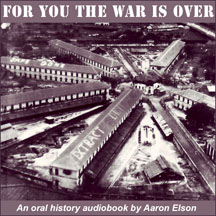 For You the War Is Over
an audiobook on CD
"If you want stories," Bob Levine, a veteran of the 90th Infantry Division who was wounded and captured in Normandy, told historian Aaron Elson, "you should interview POWs."
Bob was right. Prisoners of war from World War II are a band of brothers who may not have fought or flown together, but who shared many of the same harsh experiences: the hunger, the pain, the deprivation, the humility and loss of self-esteem. The unique American humor that makes light of the worst of circumstances.
All of these emotions and experiences are captured in this unique oral history audiobook.
This audiobook is not a comprehensive account of what it was like to be a POW. There are many great books and documentaries that give an overview of this important piece of history, and several prison camp web sites that share the stories of "kriegies" who were there. What these CDs are is simply a collection of conversations in which a handful of former prisoners of war relate their experiences, and talk a bit about their lives before and after the war.
Listen to an excerpt:


One of the ironies of World War II is that it turned many of the men and women who took part in it into great storytellers, and yet the trauma they experienced, the things they did and saw, made them recalcitrant to the point that many of the stories they had to tell were taken with them to the grave. Elson has been fortunate in getting veterans to open up and tell the stories they rarely told their families, or only shared at reunions or VFW halls.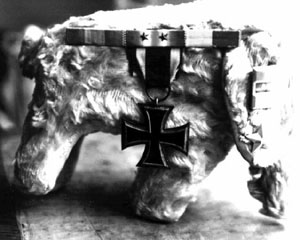 This is Dumbo, a toy elephant decorated with an Iron Cross that tail gunner Ed Hays' father took from a German prisoner during World War I. Dumbo was a good luck charm on Hays' B-17 and flew "four or five" missions in the cockpit of Hays' plane before pilot Elmer Costales realized it could get them in trouble if they were shot down and their captors discovered an Iron Cross in their possession. real audio
The Valiant Virgin, The Lady in Red, and The Richest Man in Town: Hal Mapes of Glen Rock, N.J., was a waist gunner on a B-17 that was shot down on a "milk run" to France. As he parachuted to earth -- one of only two survivors of a pair of bombers that crashed into each other -- he could see the Chartres cathedral in the distance. As he was being driven through town after being captured, an elderly lady came out of the crowd and spat on the German officer guarding him. When he realized they weren't both going to be killed, Mapes took courage from the elderly woman and began waving to the crowd that lined the streets as if he were in a ticker tape parade. Decades later, he would meet a man who was six years old and remembered him waving. real audio mp3
A Prisoner of the Japanese: Karnig Thomasian was a gunner aboard a B-29 that flew "over the Hump" -- the Himalayas -- in the China-Burma-India theater of the war. His plane was destroyed when a 500-pound bomb and a 1,000-pound bomb with different trajectories veered into each upon being dropped and exploded. He spent the next several months enduring numerous beatings at the hands of his Japanese captors in a prison compound in Rangoon, Burma. real audio mp3
"We've Got Them Surrounded": Murray Levine, a 19-year-old private, was manning a Browning Automatic Rifle in Italy when his position was overrun and a hand grenade exploded in his foxhole, killing his partner. Two German soldiers stood before him and were about to shoot him when an artillery shell landed, killing them both. Badly wounded himself, he made his way to a cave where a German officer took him prisoner. As he looked out of the cave, he saw two American soldiers crawling toward the cave, about to throw in hand grenades. He knew he had to get out of there. real audio mp3
Duel Over Denmark: Ed Hays' B-17 was damaged by flak and fell out of formation when four German fighter planes came in for the kill. His bomber took three of the fighter planes with it. Many years later, Hays would travel to Germany to meet the German fighter pilot who was credited with shooting down his plane, and whose fighter in turn was shot down by Hays' crew. real audio mp3
Paratrooper, Poet, POW: Tim Dyas, a sergeant in the 82nd Airborne Division, parachuted behind enemy lines with his squad during the invasion of Sicily. It was the middle of the night, and his squad landed on the side of a hill in the middle of the Hermann Goering Tank Division. Uh-oh. After a 12-hour battle during which his men killed a high-ranking officer of the tank division, Dyas found himself staring at two German tanks, and had to make a split decision whether to surrender himself and his men. Intellectually he knew it was the right thing to do. Emotionally, he has struggled with it ever since. real audio mp3
The Escape Artist: A tough kid from Roselle Park, N.J., Charlie Eberle learned to box because his mother never cut his hair, and he would go to school with flowing locks that got him into several fights. As a teenager he became an AAU boxing champion. As an officer in the 34th Infantry Division, he fought at the Kasserine Pass and elsewhere in North Africa. His company was captured during a German counterattack. real audio mp3
Every Day's a Blessing: Jim Koerner, a sergeant in the 10th Armored Division, was captured during the Battle of the Bulge. His story is available in "Nine Lives: An Oral History" which can be read online at tankbooks.com. real audio mp3
A Jewish Prisoner of the Nazis: Bernie Levine, as a POW in Stalag Luft 1, took part in what likely were the only regular Jewish prayer services in a Nazi prison camp. The prisoners would meet in a different place each week, arriving in ones and twos, while other prisoners distracted the guards. In this excerpt, Bernie talks about his interrogation. real audio mp3
Cannon Fodder: Bob Levine was a replacement in the 90th Infantry Division, which suffered some of the heaviest casualties in the European Theater of Operation. He was wounded and captured in Normandy, and his leg was amputated by a German surgeon. Four decades later, he would return to Normandy and meet the family of the German doctor who amputated his leg. Bob's story is included in "They were all young kids," which can be read online at tankbooks.com. Listen to an excerpt: real audio mp3
For more information about the veterans in "For You the War Is Over" and transcripts of some of the interviews, please visit World War II Oral History at tankbooks.com. To hear more excerpts, go to audiomurphy.com
---
Order "For You the War Is Over" from our eBay store
---
---